Sub-Commander T単ol, Science & First Officer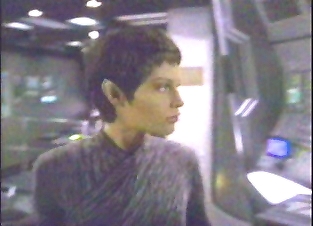 Sub-Commander T'Pol (formerly named T単au) is in her late 20s by appearance (though of course being a Vulcan, she痴 pro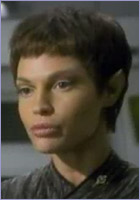 bably 129), an "austere yet sensual" Vulcan female. She's the Enterprise's Science Officer and First Officer assigned to the ship to oversee humanity's progress (which sounds like she値l be a Vulcan liasion of sorts as well). Although she's cautious and guarded around humans, whom she considers primitive and irrational, she'll come to develop a grudging respect for Captain Archer. She値l become one of his most loyal and trusted crew members.
See more pictures of T単ol on the Cast Photos page.
Jolene Blalcok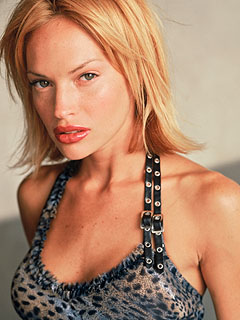 Won Best Supporting Actress at the Saturn Awards (by the Academy of Science Fiction, Fantasy & Horror Films) for her role as T単ol, June 10, 2002
Won Female Face of the Future award as voted by fans at Cinescape magazine, June 10, 2002.
Jolene Blalock had a starring role in the recent NBC miniseries Jason and the Argonauts as Medea. In addition, she was in the upcoming Diamond Hunters mini-series, and had a guest role in an episode of C.S.I.
Blalock has revealed she was a fan of the original series and especially identified with Spock and enjoyed the love/hate relationship between Spock and Dr. McCoy. She watched some of the Next Generation, but stopped watching mid-season. She loves the idea of now being on Enterprise...and playing a Vulcan.
She will star in the upcoming television miniseries "Diamond Hunters" opposite Alyssa Milano and Roy Scheider. Blalock also recently wrapped the Showtime film production "On the Edge." Other television credits include guest spots on C.S.I.: Crime Scene Investigation, Dick Wolf's D.C., JAG, G vs E and Veronica's Closet.

Blalock currently resides in Los Angeles. She enjoys photography, surfing, skateboarding, Thai-boxing, roller-skating and snowboarding.
Links of Note:
Upcoming Appearances:
Fan Mail Address:
Jolene Blalock
c/o Enterprise
Paramount Pictures,
5555 Melrose Avenue,
Hollywood, CA 90038-3197