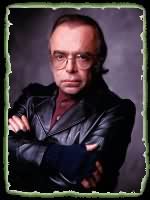 Melvin Frohike
(Tom Braidwood)
As an actor, Tom Braidwood is probably best known for his role as Melvin Frohike, a member of the computer-hacking conspiracy-tracking trio The Lone Gunmen from "The X-Files." However, in addition to acting, Braidwood's career encompasses positions as a director, assistant director, production manager and writer in both television and feature films.
Most recently, Braidwood produced the Gemini Award-winning Canadian dramatic series "DaVinci's Inquest" and directed three episodes. His previous producing credits include the television movie "Silence" and the feature films "Kingsgate," "The Portrait," "Walls," "Low Visibiity" and "Deserters."
His extensive credits as production manager include television movies, documentaries, feature films and shorts. He has directed second unit for the FOX television series "Millennium," as well as "The Sentinel" and "Strange World," and was also first assistant director on the series "The Sentinel," "Pittsburgh," "Mercy Point," "DaVinci's Inquest" (first season) and "The X-Files" (for over five seasons).
As an actor, Braidwood was in residence at the Tamahnous Theatre Workshop Company for six years, where he also wrote and performed as a musician. He also appeared in the feature film "The X-Files: Fight the Future."
Braidwood lives in Vancouver.