Game Information For:
Babylon 5 - Highlander - Magic - Star Trek
Star Wars - RPG - Other Games
Have a game you'd like to list? Click here for the calendar!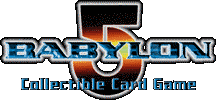 This is a list of Game Tournaments we know of at conventions or stores. Right now, it's main focus is Central Florida since these are the ones I usually hear about. But if you are running a tournament or know of a convention having gaming, please let me know and I'll add it here!

If you haven't tried the Babylon 5 Card Game from Precedence Publishing, you a missing a good game (though a lengthy one!). We've been playing for a while and enjoying it. It really captures the essence of the show, even if the rules are a bit complicated. For more information on the game, check out the Precedence Website.




Tournament Calendar


We have a new event calendar - just post your tournament for FREE! Be sure to give location and other relevant information...but please, keep it brief! Long entries or non-gaming related entries will be deleted.