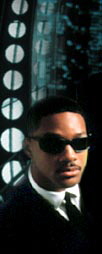 Men in Black 2
Release date: July 3, 2002
Will Smith (J), Tommy Lee Jones (K), Rosario Dawson (Rita), Linda Fiorentino (L), David Cross (morgue attendant), Famke Janssen (Serleena), Johnny Knoxville (2-headed alien), Tony Shalhoub (Jeebs), Rip Torn (Zed), Patrick Warburton (T), Michael Bailey Smith.
Director: Barry Sonnenfeld
Written by: Robert Gordon (Galaxy Quest), Barry Fanaro (The Crew)
Continuing the story of agents protecting the Earth from ExtraTerrestrials. L will have a starring role (as indicated by the end of MIB). Smith has said in interviews the agents get to travel off Earth in a ďbrilliantĒ script concerning an intergalactic war. Patrick Warburton is Smithís new partner T, Rosario Dawson is Jís love interest (who is also being hunted by aliens) with Janssen as the filmís central villain, Serleena. Lara Flynn Boyle plays an unnamed villainess. Expect expanded roles for Frank (the pug) and the worm guys.
Filming in New York, the old Ford has been replaced by a souped up BMW with enhanced capabilities.
5/15/02: MIB II: DOWNLOAD THE FRANK THE PUG SCREENSAVER
When the MIB go K9, there's only one mixed breed to get the job done -- Frank The Pug. An alien in a dog's body, Frank can be found running down wayward visitors, sniffing butts and taking names. Download the Frank The Pug screensaver from MenInBlack.com today.
1/14/01: Look for the February issue of Premiere Magazine - it features an article and several photos (some of which are on our photo page). Sony has the official website online now as well - nice design though Flash is required.
10/12/01: Michael Jackson has filmed a minor role for the film - no, not as an ET.
10/10/01: Patrick Warbuton says his character T starts out in the film as Jís new partner to be replaced by the returning K (Tommy Lee Jones), though he wonít say why he has to leave. He did complain that he didnít even rate a noisy crickett and that there are some very scary aliens in the subway in NY.
9/14/01: Production has been temporarily halted with the ending, which was to revolve around the World Trade Center, being re-written. The halt may push back the planned release date.